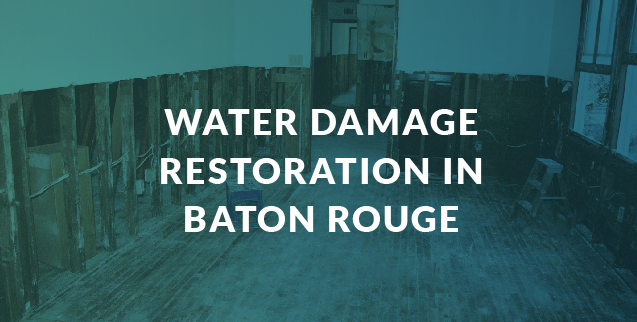 Hire the Best Water Damage Restoration Company in Baton Rouge
Many homeowners in Baton Rouge have dealt with water damage at some point or another. The torrential downpours, flooding, and hurricanes can cause significant damage to your property. From structural damage to cosmetic damage, the water can turn your home into an unbearable place to live.
When homeowners of Baton Rouge are dealing with water damage, they call CLEAR Restoration. For professional service, quality and safe remediation, and industry expertise the local Baton Rouge company can't be beat.
A Licensed and Certified Company You Can Trust
In the industry of restoration and remediation, not all companies are created equal. When hiring a company, nothing beats hiring a local Baton Rouge water damage restoration company like CLEAR Restoration.
CLEAR Restoration is a Louisiana-licensed company and is qualified to properly and safely remove water and mold from your property. In addition to being licensed by the state of Louisiana, we are also certified by OSHA and by IICRC. When you hire CLEAR Restoration for your water damaged home in Baton Rouge, you can be sure we know exactly what to do and how to take care of your home safely.
The other perk of hiring a local Baton Rouge restoration company is the company's determination to provide a good service. Companies that roll into an area to capitalize on a bad situation and then roll out of town usually don't care if they do a good job or not. A local water damage restoration company depends on their reputation in the town and cares about those in the area. Hiring a local Baton Rouge company for water damage restoration is a clear choice.
A Local Baton Rouge Water Damage Restoration Company that Works with You
As a local business, CLEAR Restoration knows that storms and floods can occur in the area at any time We offer 24/7 emergency services to help counteract those disasters that come at the most inconvenient times. Knowing it takes as little as 24 hours for mold to begin growing, CLEAR Restoration does not waste time by making you wait until normal business hours to provide the help you need. As a professional water damage restoration company in Baton Rouge, we work around your needs and schedule.
The Best Water Damage Restoration Company in Baton Rouge
Knowing that one problem can often lead to another, CLEAR Restoration is not only a water damage restoration company but also a mold remediation and fire damage restoration company. In the event that your water damaged home leads to mold growth, CLEAR Restoration can solve both problems without involving another company. As a full-service restoration company, we aim to provide any restoration service you may need.
When you experience water damage in your Baton Rouge home, call CLEAR Restoration and see the difference in quality, safety, service, and results.