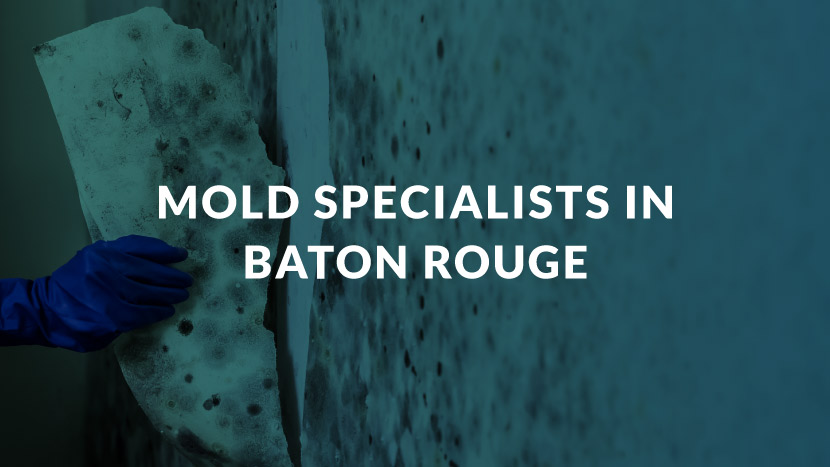 The Mold Specialists in Baton Rouge Not Only Remove the Mold but Also Fix the Problem at the Source
Whether you find mold in your newly bought home and are caught completely off guard or you knew to expect it right after a flood, it's always hard news to hear. Mold growth in your home is a serious problem and should be addressed immediately for health and safety reasons. When mold begins to grow, sometimes within 24 hours of water damage, it's time to call in the mold specialists of Baton Rouge. We'll identify the source, fix it, and remediate your mold for your and your family's safety.
Certified Mold Specialists
As mold specialists in Baton Rouge, we uphold the highest standards for the protection of our clients and of our remediation team. We are state-licensed residential and commercial general contractors, which means we can safely work on your property for structural damage caused by mold, water, or fire. When you need a local restoration company you can trust, call CLEAR Restoration. Our clients are always relieved after we help them with various types of remediation including structural drying, deodorization, mold remediation, water damage restoration, and fire damage restoration.
Mold Resources from Your Mold Specialists
Mold is mysterious even in these times, and information about it can be misleading. As the mold removal specialists, we want to provide you with the information you need to be informed and safe when dealing with mold. Check out our additional blogs to stay safe when you've got mold in your home or workspace.
Our Mold Remediation Process Keeps You Safe
When it comes to mold, we follow a strict process to ensure everyone's safety. If you find mold in your property, contact us immediately at 225-245-3575. We'll come to your place quickly and begin the process right away. With a custom plan tailored to your specific issue, we'll ensure your property is mold-free, and we'll fix any problems we find that caused the mold so it doesn't come back.
Our Mold Remediation Process

Mold Assessment – Your property is checked for contamination.
Remediation Plan – We build a custom plan to remove the mold based on your situation.
Evacuation – If necessary, we ask anyone present inside to leave so that they are not in harms way.
Containment – We seal off the infected area so mold does not continue to spread and spores are not released to other areas of the property.
Remediation – We remove the mold according to IICRC and OSHA standards.
Post -Remediation Testing – We work hand-in-hand with your mold-testing company as they send off more samples to a third-party lab to verify that your home is mold-free.
We're Local Mold Specialists, and We're There When You Need Us
As local mold removal specialists in Baton Rouge, we are available at any time. Our 24/7 emergency service means you never have to face a disaster alone, no matter what it entails. We are able to come to you quickly and begin remediation immediately to save your home or business as much as possible. When you have mold at your property or are facing another type of damage, trust the local experts at CLEAR Restoration. We'll help you just as we've helped our neighbors throughout the community.